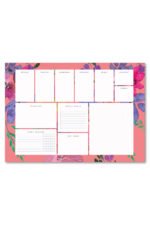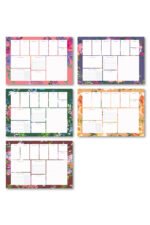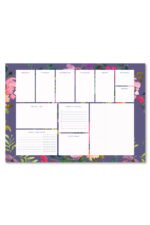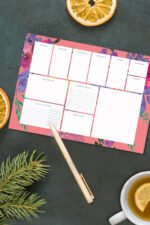 Floral Watercolour Weekly Planner & Notepad A4
£8.50
Floral Watercolour Weekly Notepad is a useful organizing tool that allows you to plan and keep track of the tasks you need to do during the week. You can plan your daily schedule, meetings, appointments, lessons and other activities in detail from Monday to Sunday, set your top priorities and focus on the most important goals of the week, keep track of your habits and take notes of things you shouldn't forget. Enjoy boosting your performance with Watercolour Weekly Notepad.
Floral Watercolour Weekly Notepad is great for organising busy schedules. It is packed with essentials and exciting extras to keep you organised and make the most of your time. It is suitable for use in the office or at home.
Each notepad measures A4 size – 210×297 mm and includes 50 tear-off sheets that can be pinned onto bulletin boards, office desks or wherever you want. You can even use a magnet and stick it to the fridge!
Floral Watercolour Weekly Notepad helps you to save time by making detailed weekly and daily programs, achieve your goals easily, and thus to feel comfortable, happy and peaceful. Using the planner, you can set your daily – weekly schedules, priorities and goals, make lists, jot down things to remember, manage multiple tasks at the same time, track your progress, and so increase your productivity by managing your time well. The planner is undated so you can start planning your busy schedule at any time.
Floral Watercolour Undated Weekly Desktop Planner Notepad
Daily Planner
Weekly Planner
Habit Tracker
Full-colour printed
Each notepad features 50 sheets of 100 gsm high-grade paper (5 repeated different designs)
A4- Measures 210×297 mm
Fast Dispatch: We aim to dispatch orders within 24 hours.
Cost to Deliver: FREE UK delivery on orders over £20
Dispatch From:London, United Kingdom